The NBA champions, the Toronto Raptors are making history by introducing the Toronto Raptors New Nike Pro Hijab. This news was announced by the team on Friday morning. This launch made the Raps as the first NBA team in history to have their own licensed line of the traditional Muslim head covering.
Inclusive to fans of all cultures
In the Raptors' video announcement, a local non-profit group on behalf of the involvement of Muslim women in sports, the Toronto's own Hijabi Ballers show off their skills at an outdoor basketball court. The Raptors say the new line of  team-branded hijabs is part of an effort to be more inclusive to their diverse fan base. The product is a Nike Pro hijab emblazoned with the team logo of the Raptors. Having hijabs available to female Muslim athletes gives a chance to the team to send a message of tolerance and acceptance.
"One of the things that we are very interested in is moving from saying we are just about inclusivity and accessibility, and finding ways to bring products and ideas to market that actually prove that," said Jerry Ferguson, MLSE senior marketing director.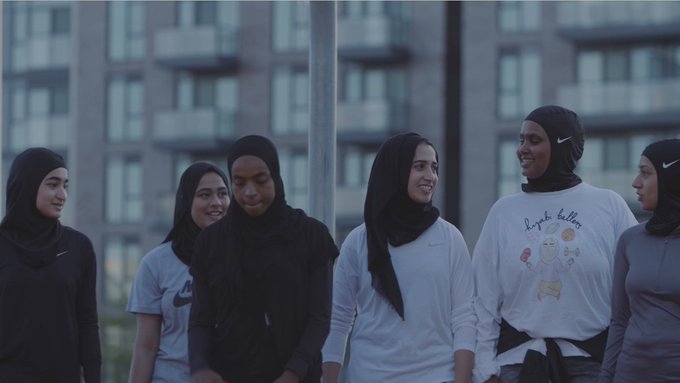 Empowering muslim women
Ferguson says the hijabs, allows female Muslim athletes to wear gear supporting their team while taking part in their sport of choice. Doing so, he said, emphasizes that basketball courts should be places where all feel welcome and included.
The Hijabi Ballers welcomed the new hijabs as a symbol of empowerment.
"Our goal … is to ensure Muslim girls and women feel like they belong on those courts, in the mainstream sports world and restating the idea that sports are for everyone, no matter your beliefs," stated founder Amreen Kadwa.
The launch of the hijab was celebrated by the National Council of Canadian Muslims. They which the Hijabi Ballers for encouraging the team to action. Executive director Mustafa Farooq said:
"One of the beautiful things about sports is that everyone can play. Highlighting that … everyone should get a shot is such a beautiful thing to do, so obviously we thank the Raptors for taking this step."