The Paralympic Games in Rio is the next wave of Olympics in Brazil this year. The games began on September 7th and will end on September 18th. Not really advertised like the main Olympic Games, the Paralympic Games started in an effort to include a wide range of disabled athletes in sports competitions. This is the reason it is also held in Brazil not too long after the main Olympic Games have ended.
Paralympics started as an event for World War II British veterans who found themselves with disabilities after fighting the war; it soon became an international event.
Now, there have been controversies about cheating by some of the participating athletes who claimed to have disabilities when in fact they didn't. So, stricter rules have been put in place to counteract false claims while more methods to distinguish a disabled person from a non-disabled person are being determined.
This year, 43 African countries are participating in the 2016 Paralympic Games; athletes will also be streaming in from 27 countries in the Americas, 40 Asian countries, 44 European countries, and 6 countries from Oceania for their chance to win medals.
We made a list of Muslim athletes you should look out for.
Zahra Nemati
This Iranian athlete is a Paralympic and an Olympic archer. She was previously a black belt Taekwondo athlete but had to switch sports due to a car accident. She has already won several medals; gold and bronze.
Fatimata Diasso Brigitte
A runner from Ivory Coast, Diasso is a 26-year old track and field athelete who has a visual impairment since childhood. She will be running the Women's 100m – T11, Women's 100m – T11, and the Women's Long Jump T11. This is her first Paralympic participation. She was supposed to compete in London 2012 but she was disqualified at the last minute due to an injury. Around Africa and her own country, she has won medals of achievements.
El Amin Chentouf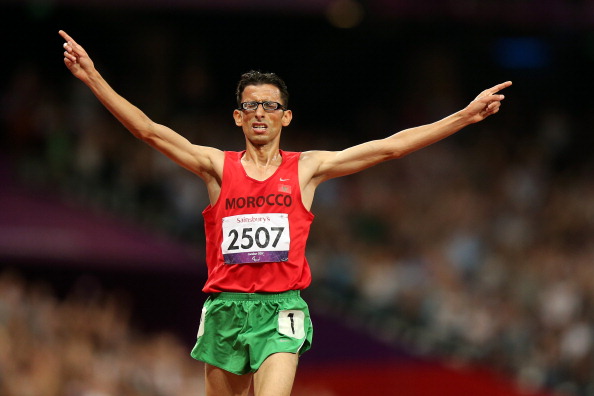 From Morocco, Chentouf is a Paralympic runner and a multi-gold medalist in T12 races. He will be competing in the IPC athletics for men. Watch out for the 35-year-old because he'll be defending the world champion title he holds.
Sanaa Benhama
Benhama is the women's defending champion for Morocco. She did very well in Beijing's 2008 Games with three gold medals. She will be running the Women's 100- T13 and Women's 400- T13.
Emrah Ocal
This Turkish Paralympic athlete is another one to watch out for. He has gold under his belt in 5-a-side soccer. In fact, he helped his team win gold at the 2015 IBSA European Championship. Bravo! Tune in to see him dribble the ball and score many goals like he is known to do.
Ali Jawad
From Great Britain, Jawad will be competing in Powerlifting. With several gold medals to his name the 27-year-old is an inspiration. Born without his legs in Lebanon, he has achieved what would be impossible for some of us impossible. Like all the Paralympic athletes around the world, he didn't let his handicap dictate his calling in life.
Nazmiye Muratli
Muratli is another Paralympic powerlifter from Turkey. At the London 2012 Paralympics she won gold in women's up to 40kg category,. The 37-year old has other medals, the most recent being gold in the 2014 IPC Powerlifting World Championships.
Sherif Osman
The Egyptian Paralympic won gold at the 2014 IPC World championships for men's up to 54kg in powerlifting. That's not his only medal; amongst others he holds another Olympic gold medal from Beijing 2008. Osman was a shot putter before deciding to focus on powerlifting.
Sareh Javanmardidodmani
The Iranian will be competing in IPC shooting. She won bronze at London 2012 Paralympic Games but gold at 2014 IPC Shooting World Championships. Watch out for this shooting star as well.
Ramezan Salehi Hajikolaei
Hajikolaei is another Iranian competing at the 2016 Paralympic Games in sitting volleyball. He won silver in London 2012 and gold in Beijing 2008 Paralympic Games.
Make sure to tune in to follow and support these outstanding athletes and the others not mentioned here. May the best athletes win!